Meet people in Barcelona and practice their languages!
Every Wednesday and Friday we meet in order to practice Spanish, Japanese, Chinese, etc. They are free meetings and everyone can join. You can come alone and also with your friends. We need more English speaking people because there are many who want to practice English, too.
Cada miércoles y viernes nos reunimos para practicar español, japonés, chino, etc. Son reuniones libres y todo el mundo puede participar. Puedes venir solo y también con tus amigos. Necesitamos más hispanohablantes porque hay muchos extranjeros que quieren practicar español.
每星期三,星期五我们有一个活动为了交流西班牙语,英语,日语和中文等。我们是个自由的聚会,如果你感兴趣来学习,交流,认识更多国家的朋友我们会有很多的活动,例如卡拉ok,聚餐,烧烤,节日庆祝放花等活动。
毎週水曜日と金曜日に集まって、いろいろな国の学生やビジネスマンや旅行者と知り合い、また、スペイン語や英語などの練習をしています。日本語が堪能ないろいろな国の人も集まっています。毎週定例のミーティング以外にも、いろいろなアクティビティーをしています。
Nous nous rencontrons chaque mercredi et vendredi à Barcelone. Vous pouvez rencontrer des personnes d'ici et d'ailleurs, principalement d'Asie et d'Europe. Si vous voulez, vous pourrez pratiquer l'espagnol, le japonais, le chinois, l'anglais ou toute autre langue.
Spotykamy się w każdą środę i piątek, aby wspólnie ćwiczyć rozmowy w języku hiszpańskim, japońskim, chińskim itd. Są to wolne spotkania i każdy, w każdej chwili może się przyłączyć. Możesz przyjść sam lub wspólnie z przyjaciółmi. Chcielibyśmy, aby do naszej grupy dołączało coraz więcej Europejczyków i mieszkańców Azji, ponieważ wiele osób wyraża chęć uczenia się nie tylko języka hiszpańskiego, japońskiego czy chińskiego, ale i innych języków europejskich i azjatyckich.
Every Wednesday, 21:00 - 22:30
Bar Billar HDP : Sant Joaquim 35
Every Friday, 21:15 - 23:00
Alex Bar Restaurant : Còrsega 170
Do you know Mundiñol Shop?
Handmade accessories, charms from Japan and China and almost new clothes at a very low price. You can receive your order at Mundiñol events.
If you are in Barcelona, visit us. You can find handmade accessories with gems and other things from Asia.
Above all, necklaces with natural stones: agate, lapis lazuli, jasper, quartz, amethyst, labradorite, etc.
INTERCAMBIO DE IDIOMAS
ESPAÑOL JAPONÉS CHINO CATALÁN
EVENTOS FAMILIARES
LOS FINES DE SEMANA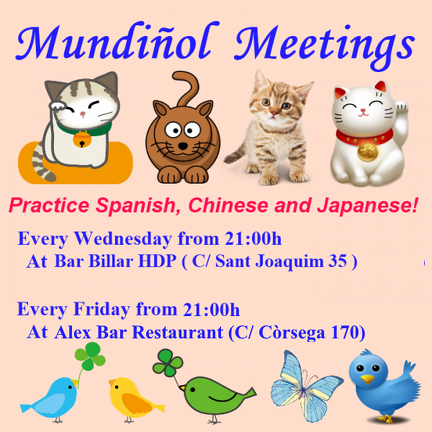 Barcelona és bona si la bossa sona.
Barcelona es buena si la bolsa suena.
Tant si sona com si no sona, Barcelona és bona.
Que suene que no, Barcelona es buena.
Roda el món i torna al Born.
Da la vuelta al mundo y vuelve al Born.
Qui no ha vist Barcelona, no ha vist cosa bona.
Quien no ha visto Barcelona, no ha visto cosa buena.
Qui no és anat a Barcelona, no és mitja persona.
Quien no ha ido a Barcelona, no es ni media persona.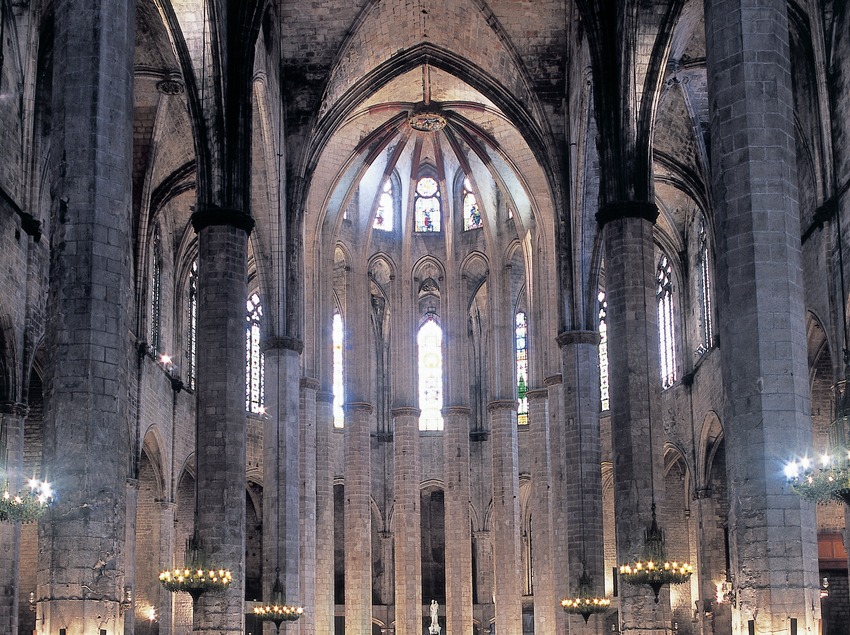 Basílica de Santa Maria del Mar
BARCELONA